Facilitator or Administrator
There is no time to lose. We have to administer this course to overcome the effects of our lifeless professional development sessions.
First we need to find out if you should be an administrator or a facilitator.
Seriously? We have zombies in our school and you want to ask such an obvious question? Of course I'm an administrator. I'm the principal!
That's not what I mean. In Edivate, there are two course facilitation roles. Course administrators can do everything facilitators can, but also have some extra privileges.
If you see the Course Customization and Course User Tool buttons in the Course Admin Tools, that is an indicator you have been set as an Administrator for the course.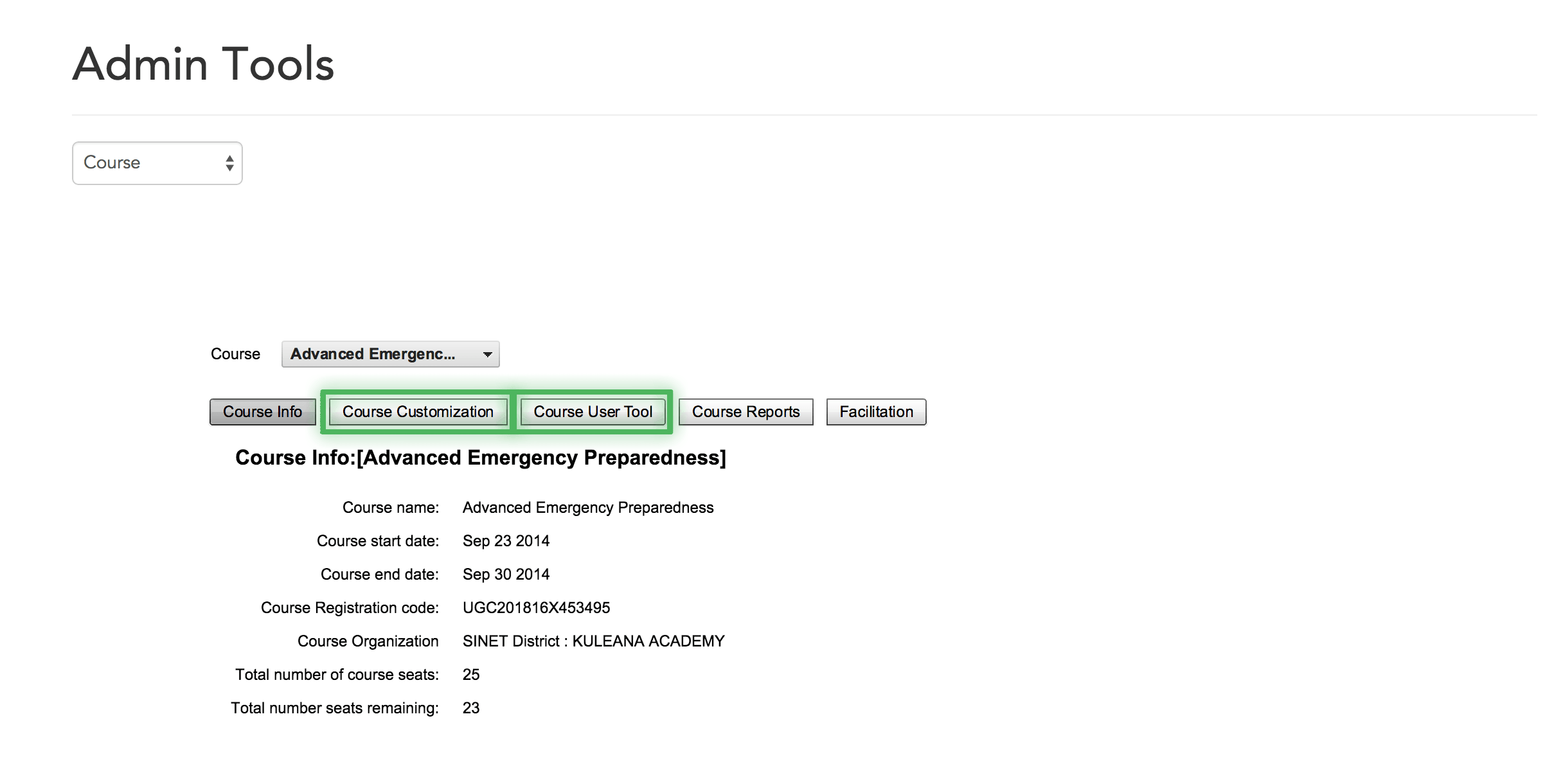 That's a good question. If we look at the additional privileges an administrator has, we should be able to tell which is right for you.
Finding the Right Role
Should I be a Facilitator or an Administrator?

Restart
Do you need to assign other course participants to be facilitators or administrators?
Do you need to toggle tasks to require facilitation?
Do you need to upload a custom syllabus for the course?
Do you need to change dates for when tasks should be completed?
You answered yes to all of the questions. You will need to be assigned a course administrator role in order to perform all of your responsibilities.
You answered no to all of the questions. You should be able to perform all of your responsibilities with the privileges granted to the course facilitator role.
Your answers make it seem like you need to perform some of the functions available only to course administrators. You can either ask to be made an administrator of the course, or have a course administrator perform the functions you require. In either case, you can still facilitate individual participant tasks.
What If I am Not Assigned the Correct Role?
If you are not assigned the correct role, contact either the builder of the course or the person who is currently a course administrator of the course. They should be able to help determine whether or not you should be given a different level of responsibility.
Administrator Functions
I'd like to assign others to help me facilitate so I think I should be an administrator.
I have you set up correctly. Let's review quickly some of the things you can do as an administrator.

On the Course Customization tab, you can upload a syllabus for the course or you can set a link for your syllabus. The advantage to doing this instead of having a File Download task is that you can update the syllabus any time you need.

Dates for each task are automatically set to the start and end dates of the course. However, you may want to set specific dates for certain tasks that are a period of time within the course date range. If you are in the process of changing dates and want to set them back to the last saved values, click
Refresh Dates
.

And finally, as a course administrator, you can toggle whether a task requires facilitation or not. However, you shouldn't change this setting lightly. Carefully consider whether or not you need human intervention for a task type. You can use this table to help you determine what is appropriate.
When to Require Facilitation
| Task Type | Require Facilitation? | Notes |
| --- | --- | --- |
| | Never | The participant is only reading information and doesn't provide anything for you to check or approve. |
| | When Necessary | If you want to have them watch a portion of video, you may provide times in a Generic task before the video and then facilitate the task to ensure they watched the right length of time. |
| | When Necessary | If you want to examine the contents of what they uploaded, require facilitation on this task. |
| | Never | You can use other tasks and require facilitation to ensure that the content from the download was examined. For example, you could use a Free Response or a Forum Post task. Or you could not require facilitation and use a Multiple Choice task. |
| | Never | You can use other tasks and require facilitation to ensure that the content on the external site was examined. For example, you could use a Free Response or a Forum Post task. Or you could not require facilitation and use a Multiple Choice task. |
| | When Necessary | If you want to see that the initial post of the thread was relevant, require facilitation. |
| | When Necessary | If you want to see that the post was relevant to the desired outcome, require facilitation. |
| | Never | Edivate can easily determine that a participant answered with the correct response. |
| | Always | You must determine whether the response was appropriate to the question, unless you truly don't care about the response. |